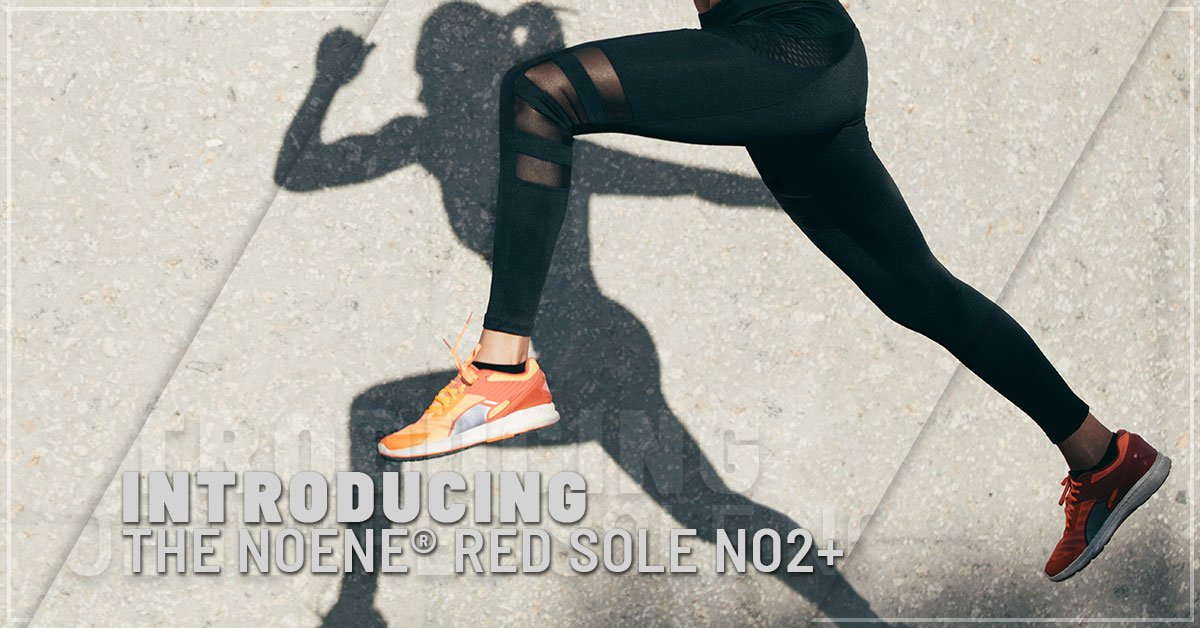 NOENE AMERICA is excited to announce the arrival of our most comfortable shoe insoles yet — RED SOLE NO2+.

We engineered RED SOLE NO2+ to provide unparalleled arch support, cushion, and joint protection.

If you work long days on your feet, suffer from joint pain, or just want a more supportive insole, RED SOLE NO2+ is the right shoe insert for you.

Learn more about RED SOLE NO2+, including its distinctive features and benefits, and order online today from NOENE®.
RED SOLE NO2+ Prioritizes Comfort
Unlike our other thin shoe inserts,
MULTISOLE NO2
and
UNDERSOLE SOS1
— which were designed to be thin, performance-oriented, and compatible with orthopedic insoles — RED SOLE NO2+ are replacement insoles and are all about comfort.
RED SOLE NO2+ achieves this optimal comfort thanks to a blend of different materials. In addition to using NOENE® proprietary shock-absorbing technology that you expect from our products, RED SOLE NO2+ also includes airfoam, carbon fiber, and kevlar for additional comfort and support.
Here's a breakdown of how each material works to enhance your comfort:
NOENE® — we place this proprietary material in the forefoot and heel to absorb harmful shockwaves that otherwise travel through your joints.
Airfoam — thermo-compressed memory foam creates a cushion similar to the feeling of a memory foam mattress.
Carbon Fiber and Kevlar — these materials provide additional arch support and reinforcement, reducing foot fatigue and soreness.
This high-tech design and blend of materials creates the ultimate shoe insert for stability and comfort.
RED SOLE NO2+ Helps To Protect Joints
If you have any joint-related pain or maintain an active lifestyle, you understand the importance of proper footwear.

After all, wearing flimsy or unsupportive footwear probably exacerbates your joint pain, stiffness, swelling and leads to poor athletic performance.

RED SOLE NO2+ is an excellent option, as this shoe insert provides both comfort and intentional stability in your forefoot, heel, and arch. Kevlar, the material used for bullet-proof vests, acts as a technical fabric in RED SOLE NO2+ and reinforces the arch.

Standing on your feet shouldn't be painful. Learn more about this product today to see how the RED NO2+ can help to relieve pain associated with joint issues and foot fatigue.
RED SOLE NO2+ Was Made For Daily Use
We designed this shoe insert to be ergonomic — designed for efficiency, comfort, and daily use.

These shoe inserts are both washable and reusable. It's entirely safe and recommended to machine-wash these shoe inserts, so you don't need to worry about them breaking down under the pressure. Plus, even though they're designed for comfort, these shoe inserts are strategically designed with the power of our 2-mm Noene ® material; so, unlike other shoe inserts, you do not have to sacrifice protection for comfort with RED SOLE NO2+. 

Wear them every day in whatever shoe you want — RED SOLE NO2+ was built to last.
Who Can Benefit From These Thin Shoe Inserts?
While anyone can benefit from RED SOLE NO2+ shoe inserts, we especially recommend them if you:
Work long days on your feet (teaching, nursing, construction, etc.)
Experience joint pain
Are a senior who maintains an active lifestyle
As seen on ABC's
Shark Tank
, NOENE® thin shoe inserts can transform every step you take. Order online today.